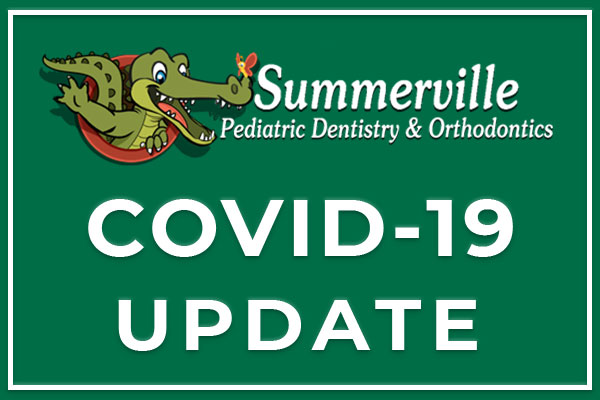 To Our Amazing Patient Family:
We are excited to be re-opening and would like to update everyone on our new COVID-19 protocols. We have and always will continue to follow guidelines and recommendations provided by the American Dental Association (ADA), the Centers for Disease Control and Prevention (CDC) and the Occupational Safely and Health Administration (OSHA). This helps us to ensure that our office is the safest place for our patients, family members and staff.

*When yo
u arrive, we will be asking a series of pre-screening questions regarding COVID-19, followed by taking the temperatures of all patients and family members who will be entering our offices. If you think you may have been exposed to COVID-19, present symptoms or have a temperature of 100.4 or higher, we will kindly ask to reschedule your appointment for another day. We also ask that everyone follow proper social distancing and stay 6 ft apart from others.
*After checking in, you will be asked to wait in your car if possible. We will call when we are ready to bring you/you child back.
*In order to limit the number of people in the building, we ask that only the child with the appointment and one guardian accompany the patient. Others should remain in your vehicle.
*We no longer offer children's toys or magazines in our waiting room due to these items being difficult to disinfect.
*Medical-grade high efficiency particulate arrestance (HEPA) air purifiers have been installed in the clinic to to help improve the overall air quality for patient, family and staff member safety.
*All doctors and staff will wear recommended personal protective equipment (PPE) to help keep you and our staff safe.
Thank you for being a part of Summerville Pediatric Dentistry! We look forward to seeing all our patients and families again, while going above and beyond to ensure your safety.
How you can help keep COVID-19 from spreading
To help keep our staff and other patients safe, we respectfully request the following:
If you or your children have any symptoms or a temperature over 100, please contact us to reschedule your appointment
If you have traveled outside of the U.S., please consider rescheduling your appointment
Please use the hand sanitizer provided or wash your hands thoroughly in the restroom upon arrival
Please keep a safe distance from others in our reception area
Please cough or sneeze into your elbow rather than your hand
If you have any questions, please do not hesitate to contact us.