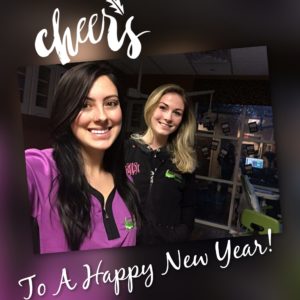 IT'S A NEW YEAR! We're so excited for what this year will bring, particularly when we look back at everything we achieved in 2018. That's why we're taking this opportunity to give our wonderful patients an update on the goals our team members have made for the new year, as well as their accomplishments from the last!
How Far We Came In 2018
2018 was a year of focus and growth for our office. After the big move of 2017 to our new Pediatric and Teen dental location, both the dental office and the orthodontic office spent 2018 breathing in their new space. We've celebrated new milestones and fun giveaways with our patients and office family, incorporated new technologies and fun new treatment options—I'm looking at you GOLD BRACES. We've worked hard to make sure your dental and orthodontic experience is always TOP NOTCH. Thank you for all of your patience, your suggestions and your love for our doctors and our amazing team. You, our WONDERFUL patients, have made us all so thankful to be in this profession of serving others.
Our Roadmap For 2019
We are EXCITED to tackle this new year, 2019, with goals for health, mindfulness, presence, but importantly reflection on where we have come from and where we are going. Thinking back to our start over TEN years ago, it is the love our patients that has propelled us forward. Our office goal for 2019 is to continue to grow and surpass your expectations with a single-minded obsession. You have many choices for dental care and we are honored that you have chosen our little office!
Side note — Dr. Katie is also super excited about her new Bullet Journal resolution… #bulletjournal… mind blown. Shout out to Olivia Olson for the suggestion! Bring on that #organizedlife!!!
Check out this video for tips on keeping your resolutions:

What Are Your Goals This Year?
Now that we've told you about our goals for the new year, we want to hear about yours! Share your New Year's resolutions in the comments below or on Facebook, and we look forward to seeing you this year!
Let's all support each other in making our resolutions a reality!